Known as the "Gateway to the Sea of Cortez," San Felipe is a Mexican fishing town with sandy beaches, fish tacos, and a love affair for off-roading.
It's located on the northwestern coast of the Gulf of California – only about a 2 hour drive from the US/Mexico border – making it the perfect spot for a Baja weekend getaway!
Watching the sunrise over the sea, walking along the malecón (boardwalk), and riding an ATV over the sand dunes are just some of the best things to do in San Felipe, Mexico.
There are campgrounds on hotels on the beach where you can enjoy a day relaxing under a palapa, local seafood restaurants lining the main street where you can savor fish tacos and cold cervezas, and endless opportunities for fun in the ocean, like fishing, boating, kayaking, and touring the bay in a giant floating sombrero.
Due to it's proximity to the US, San Felipe is an extremely popular destination for beach-loving snowbirds. With many of them choosing to stay the entire winter, only to be chased out by the summer heat. It's easy to find restaurant menus in English, many employees speak basic English, and it's common to see prices listed in US dollars.
Looking for more things to do in Baja? Check out these posts:
We link to products and services we think are useful for our readers. We may earn a commission for purchases made through some of these links. There's no extra cost for you and it helps support our work. We really appreciate your support!
How to Get to San Felipe
The closest international airport is Tijuana (TIJ). Find a cheap flight and book a rental car, then do the 4-hour drive southeast to San Felipe.
Many tourists visit San Felipe, Baja California by driving their own vehicles to Mexico on a Baja California road trip.
Don't forget to get Mexican auto insurance for your vehicle. It's required by Mexican law and US and Canadian car insurances don't provide coverage in Mexico.
Read Next: Baja Insurance: Why You Need It and How to Get It
Cross the border at Calexico/Mexicali (stop to get your FMM tourist permit) and then take Highway 5 south. It's about 2 hours and 30 minutes driving time from Calexico, California to San Felipe, Mexico.
ABC (Autobuses de Baja California) has buses that run from Mexicali and Tijuana to San Felipe.
Staying Safe in San Felipe
San Felipe is a small beach town that's relatively ignored by the cartel violence that plagues the Mexican border cities. But, as usual, stay aware of your surroundings, don't walk through dark alleys at night, and avoid flashing large amounts of cash or expensive items in public.
If you're camping on the beach, it's probably smart not to leave any valuables outside overnight because most campgrounds have open access from the public beach.
And don't forget to get good travel insurance before your trip! We recommend World Nomads Travel Insurance. It's designed for adventurous travelers with cover for overseas medical, evacuation, baggage and a range of adventure sports and activities.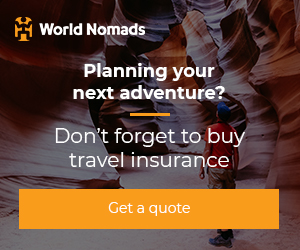 Best Time to Visit
The best time to visit San Felipe, Mexico, is October through May when the weather is cooler and more inviting. Summer (June-September) brings sweltering heat and humidity, and many businesses close for the season.
Best Things To Do in San Felipe
San Felipe, Mexico, offers something for everybody: boat trips to the nearby island for the more adventurous crowd, fish tacos and local craft beer for the foodies, and relaxing under a palapa for those that just want some time off.
Take a stroll along the malecón
San Felipe's malecón (boardwalk) is where all the action is. There are vendors selling freshly prepared coconuts on the ocean front walkway, seafood restaurants with ocean views, and town's main beach area.
Spend a day at the beach
One of the most relaxing things to do in San Felipe is to simply spend a day relaxing under a palapa on the sand. Most beach front campgrounds and hotels offer access to their palapas for guests.
But you can also rent a tent canopy, tables, and chairs for around $300 pesos a day on the beach next to the malecón.
Both of these options are fine with you bringing along your own cooler, drink, and food.
Try the local specialties 
As a fishing town, San Felipe's specialities all revolve around mariscos (seafood): fish tacos, shrimp, and clams.
But you can also find food carts along the boardwalk selling delicious street food like coconuts and esquites (Mexican corn on the cob).
For authentic Mexican drinks, try the thirst quenching aguas frescas (fresh fruit juice waters) and micheladas (beer with Clamato and lime).
Rent an ATV and ride on the sand dunes
The reason for San Felipe's love for off-roading is obvious once you drive into town. There are miles of sand dunes behind the RV parks along the southern end of town. You can rent an ATV and explore the dunes to see some amazing ocean views.
Catch a sunrise at the hilltop
The faro (lighthouse) and the Virgin de Guadalupe Chapel on top of the hill just north of the malecón are the perfect place to see the sunrise over the Sea of Cortez. To get there, take the stairs up to the bridge, cross it carefully, walk around the abandoned white building, and then take the stairs up to the chapel for the best views in town.
Take a boat tour to Isla Consag
Isla Consag is an island offshore from San Felipe and about halfway to the mainland. You can hire a boat to take you there for sightseeing and/or fishing.
Visit the Valley of the Giants
Visit El Valle de Los Gigantes (Valley of the Giants) to see the giant cactuses about 30 minutes south of San Felipe. It's an area with thousand-year-old cardón cactuses near Rancho Punta Estrella. It's 4×4 only after the parking lot, but you can park your car there and walk in. The admission fee fo this attraction on private land is 100 pesos.
Puertecitos Hot Springs
The Puertecitos hot springs are a hidden gem about 40 minutes south of San Felipe. They're located in a residential area right off Highway 5. The day fee for the hot springs is $500 pesos per car, but you can pay an extra $100 pesos for a campsite. We recommend showing up early and camping. That way you can enjoy the hot springs throughout the day and night.
If you're planning on visiting for the day, make sure to check the tide charts and time accordingly so that you arrive when the tide is high and on its way slowly back down.
Kayak in Laguna Percebu
Laguna Percebú used to have an onsite restaurant and campground, but neither of those were open as of November 2021. However, you can still bring your own inflatable kayak and enjoy the birdwatching at this peaceful lagoon about 30 minutes south of San Felipe.
Where to Stay in San Felipe
The places to stay in San Felipe range from campgrounds to beachfront bungalows to hotels on the beach, but you won't find any luxury resorts here.
The best area to stay in San Felipe is on the beach and within walking distance to the restaurants and shops on the malecón.
San Felipe, Mexico Hotels
La Hacienda de la Langosta Roja: This hotel is located on the main street in San Felipe and offers free wifi, free onsite parking, and an onsite Italian restaurant. It's less than a block away from the malecón and at the heart of all the action in town.
Stella del Mar: Beachfront bungalows with sea views and palapas on the sand. Stella del Mar is great because you can walk along the sand to the restaurants and action on the malecón. But, you could just as easily stay onsite the entire time, enjoying the live music and delicious food at their beachfront restaurant and bar, Matilde.
Victor's Seaside Hotel & RV Park: More beachfront bungalows with sea views and palapas on the sand. Victor's has a large palm roof restaurant onsite with amazing views, cold drinks, and live music in the evenings.
San Felipe Rentals
VRBO (Vacation Rentals By Owner) rentals are an excellent option for finding a place to stay in San Felipe, Mexico. Vacation rentals offer a better value compared to most hotels and you get experience to life like a local.
Camping in San Felipe
Club de Pesca RV Park: We checked out most of the campgrounds in San Felipe in search of the best spot within walking distance from town and this is our top choice. It has beachfront campsites, 24 hour security, free wifi, a mini-market with cold drinks, hot showers, a shaded terrace with tables and chairs, and it's about a 15-minute walk south of the boardwalk. All of this for $30-35 USD for a beach front site with hookups or $15 USD for dry camping off of the beach (as of November 2021).
Kiki's RV Park: If you're looking for the quintessential San Felipe beach camping experience, check out the 2-story palapas at this campground. The beachfront palapas are $40 USD a night, but the walk to town is farther and not recommended at night due to lack of sidewalks and proper lighting along the way.
What to Pack for San Felipe
San Felipe is a sunny beach town with temperate to hot weather and lots of ocean-related activities. Come prepared with your bathing suit, snorkel, UPF shirt, sandals, and travel towel.
Some San Felipe essentials include:
Have you been to San Felipe, Mexico? Let us know in the comments below.
Pin this post for later!