Baja California and Baja California Sur are the two Mexican states that make up the Baja Peninsula. And they have a lot to offer. Everything from bustling cities with five-star resorts to stunning remote beaches with crystal-clear water.
If you're gearing up for a visit but are wondering about Baja California safety, you're not alone.
The good news is that millions of foreigners visit the Baja Peninsula each year without incident. The bad news is that there are some real risks that you should be aware of.
I have the knowledge and experience to help you understand what it's like to visit Baja Mexico. In this article, I'll answer some of the most pressing questions like "Is Baja safe?" and "Are there travel advisories for Baja Mexico?" After reading this, you'll have all you need to visit Baja safely.
We link to products and services we think are useful for our readers. We may earn a commission for purchases made through some of these links. There's no extra cost for you and it helps support our work. We really appreciate your support!
Is Baja Safe?
This article is separated into two sections. First, we'll start with a few recommendations for products you can get and steps you can take to help with your safety in Baja. These are mainly focused on people visiting by car or who want to venture away from the populated areas.
Interested in getting a rental car while in Baja? Check out Renting a Car in Mexico to get the best deals and vital driving tips.
The second part of this article is a general discussion on safety in Baja Mexico. We'll review the Baja travel advisories, discuss the people who visit each year, and go over some practical tips on how to stay safe while visiting Baja. You can click here to skip down to this section.
Exploring Baja Mexico Safely
The harsh reality is that many of Baja's most beautiful areas are also ones that are void of cell service and extremely isolated. Even if you're staying at a resort and going on guided tours, you can still easily venture far from civilization.
Many of us add on other risks like venturing into the water on boats, kayaks, or with snorkels. Or we go hiking, biking, or driving down even more isolated trails.
Let's dive into the 7 things you need to increase your Baja California safety:
1. Satellite Personal Locator Beacon With SOS
For a modest upfront fee and a small subscription cost, you can have a pocket-sized device that will get you in touch with friends, family, or emergency services no matter where you go.
The best devices even come with a dedicated emergency response team trained to work with local officials to get you the help you need. They typically include basic search and rescue insurance as well.
It brings the ability to call for help quite literally no matter where you are in the world. You can:
Pack on trips to foreign nations where you aren't familiar with emergency services
Keep in your car to get roadside help in case of accident or breakdown
Bring it on your boat, kayak, or paddleboard for water emergencies
Take it hiking, biking, or backpacking in case anything happens on the trail
It is the best way to ensure you always have a way to communicate with the world. No matter what, you can let someone know if things have turned south.
This little device could save your life in an endless amount of situations. It might be a basic roadside breakdown but in the middle of absolutely nowhere. Or it could be a much more serious rattlesnake bite when you're 5 miles deep on a hiking trail.
In either case, you can just pull out the device and immediately start a response team. In places with the availability, this will deploy rescue teams and helicopters. In other places, it will at least alert the police, fire station, and ambulance services. They might send someone to the foot of the trail with the life-saving anti-venom you need.
It also helps when you go back home or on other vacations. You can always have peace of mind that you can stay in touch with people even in the most remote National Parks or deserted stretches of road.
I've also used them regularly to let family members know I am doing fine when away from cell service. It can be tough for my family to not hear from me for days or weeks on end when I'm in this situation. Now I can send them a quick message to say everything is great.
These are known as personal locator beacons (PLBs). The hands-down top recommendation is the Garmin inReach Mini. We recommend buying from REI to get additional purchase and return protection. This device comes from one of the most respected names in the game and is typically the highest-rated affordable PLB in any list. 
This little device can make a world of difference in your Baja California safety.
2. Portable Jump Starter and Tire Inflator
For those driving in Baja Mexico, another excellent safety product is a portable jump starter and tire inflator for your car. It saves the day if you experience these common car troubles.
Like death and taxes, failed car batteries and flat tires are part of life. And they're not a big deal if you can call for quick roadside help or ask a friendly face for help.
But what happens if you drive an hour away from civilization? You might have a wonderful day soaking in the sun on a remote beach. Then you go to turn your ignition key and nothing happens. Or you find out a tire is flat and your spare is not in good shape. Oh no.
If you have a jump pack with an inflator, you can have the confidence to open up your gear storage and start it right up. I also recommend getting a simple tire patch kit to fix many punctures on the side of the road.
I've used my portable jump starter to help about a dozen travelers get back on the road. It's helped when people drove far away from others and then had a battery die. They walked over and I just handed over this device so they could walk back to their car.
And I've personally used a patch kit three times to get out of a tough spot. Then I made it to town where they could do a full repair. When I was in college and low on funds, I left a tire plug in and drove over 20,000 miles on it.
If you didn't guess, I've also convinced quite a few people to buy these. For your Baja California safety, I hope you're another one I can add to the list of people I've won over. The cost is well worth it.
We stick to trusted brands for emergency gear. And that's why we recommend the DeWalt Portable Power Station Jump Starter.
It has a powerful 1,400 peak amps jump starter with a built-in air compressor that can go up to 120 PSI, more than enough for nearly any car on the road. I also like that it has a USB outlet for emergency charging of your phone or Garmin inReach Mini.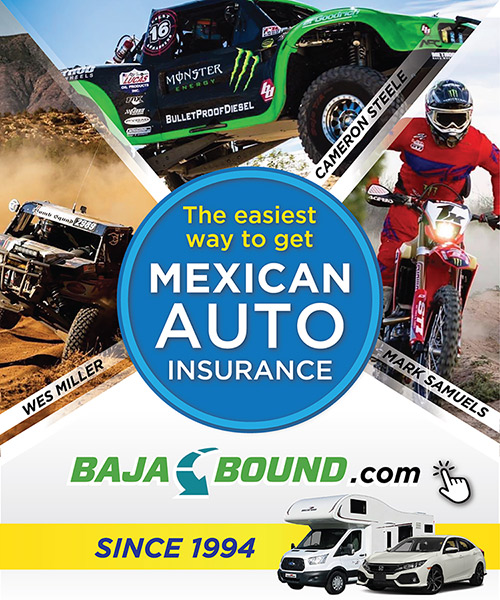 3. Insurance: Cars, Toys, and Travel
In a lot of ways, almost everything on this list is a type of insurance. In the best-case scenario, you never have to use it. But when it hits the fan, sometimes you need these little insurance policies.
Actual insurance policies are a little different. For your vehicle, it is mandatory that at minimum you buy a liability policy from a Mexican provider.
But Mexican insurance needs to go beyond your car. You should also insure any big toy you bring down, like your boat, and many people get extra travel insurance that helps with many medical and travel-related emergencies. We recommend TravelInsurance.com for most people on short visits to Baja.
Let's go through each of these in a little more detail.
Mexican Car Insurance
Like many places, Mexico requires all drivers to have a liability insurance policy. This pays for any damage you cause to others. And it must be from a Mexican provider.
We strongly recommend getting a comprehensive policy. This type of policy is necessary to have your vehicle repaired or replaced. You can also buy other add-ons like roadside coverage and even legal assistance.
We highly recommend Baja Bound, but also have positive things to say about MexicoInsuranceOnline.com. 
Head over to our post on the most popular Mexican car insurance options for more details. We cover exactly what you need and why we recommend these two brokers over other popular options like Lewis and Lewis or MexPro. 
Also, if you have any coverage from a foreign (US or Canada) insurance policy, it is most likely going to provide property coverage only. This does not meet the legal requirements for a liability insurance policy from a Mexican provider. It's just a little monetary support if your things get damaged.
Travel Insurance: Extra Reassurance All-Around
Travel insurance is something that many people never leave their home country without. One of the most important things it covers is emergency medical costs. Most policies also include emergency evacuation, which will get you to a suitable facility or back home for care.
On top of that, travel insurance also helps cover the costs associated with your trip. If your trip can't happen or if it gets interrupted, the insurer may cover the costs you can't get back. It also can include special claims for things like lost baggage or fight issues. And they can have coverage similar to life insurance.
We recommend TravelInsurance.com to people making short visits.
And if you're headed to Baja Mexico for a month or more, then we recommend going with Safety Wing instead. It is more tailored to people who are temporarily living in other countries but want medical coverage from back home.
4. Baja First Aid Kit
Let's bring things back to the basics. This tip is great for car travelers, but you can also get excellent first aid kits that fit into your luggage for travel. Even a tiny hiking kit has space for these.
Most of the dangers in Baja will be the same little issues that happen at home. You might get a nasty splinter. You can cut yourself while making dinner. Or you have a relatively minor allergic reaction.
For these situations, a good first aid kit (FAK) is a necessity. 
The truth is that not all first aid kits are made the same. You might be tempted to just drop $15 on the drugstore one you see before crossing the border. But I'm here to urge you to take your health a little more seriously.
MyMedic makes some of the best first-aid kits you can find. They include many items that go far beyond the usual band-aids. These include things like compression bandages, paracord, space blankets, EMT shears, cold packs, and treatments for burns, stings, pain, and more. 
Plus, MyMedic throws in an extensive first-aid guide to walk you through a response to many emergencies.
Head over to MyMedic to get your pack right away. These aren't the cheapest on the market. But it's a first aid kit you can trust to have the things you need. And your life is worth the cost.
5. Baja Map and Book
The last product recommendation on this list of things you need to increase your Baja California safety is a physical map. Our phones, tablets, and GPS devices can go a long way, but they're imperfect. Don't let an electronics problem turn into a serious safety issue.
Instead, you can get a physical map that will help you navigate both on and off-road. You can understand how far you are from the nearest town, which might be 20 miles back or just two miles forward. With a map, you can have the certainty to go in the right direction in an emergency.
The top two maps I recommend are the Baja California Road and Recreation Atlas and the National Geographic Baja Map Pack. Either one of these (or both) will steer you the right way.
There are quite a few other great maps and Baja books we recommend. Head over to our post on The Best Baja California Maps, Books, and Apps for more details.
6. Tell Someone Your Plan
Another very simple safety tip is to stay in communication with someone else. It doesn't matter who you tell, but always let someone know your plans and when you should be back. This is important because it:
Helps people know when you might be in trouble because you aren't sticking to your plan
Gives someone a general idea of your location so they know where to send a possible rescue team
This basic safety advice should be followed in many aspects of life, but adventuring to an area like Baja, this becomes even more important. This is a great reason to have the Garmin inReach too. You can send regular updates when things are going well, and send for immediate help if the need comes up.
It's also a good idea to make a habit out of more localized communication too.
When at a campground, let one of your neighbors know when you're going out on your boat or for a hike and where to. That way, if something happens and you don't come back, they know when to be concerned and where to point authorities.
I'm not going to lie to you. People get lost in Baja. Each year there are incredibly tragic stories of someone's car, dog, or boat being found without the person in sight. It is a very real part of Baja safety. And you can take this simple step to help minimize your risk. 
Do what you can to give rescue operations a fighting chance to do their job.
7. Don't Drive At Night
There's one final piece of advice that I want to pass on to most travelers. Many people avoid driving at night in Baja, especially on highways or at high speeds. Zipping around town isn't quite as serious, but when you're trying to cover long distances, leave plenty of time to arrive well before sundown.
Why is this? There are two main reasons.
First, the roads are treacherous and driving at night reduces your ability to deal with them. Limited shoulders, large potholes, and cliff-side curves are part of the danger. On top of that, large animals can make their way into the road and cause you serious problems. Cows often graze freely in areas without a fence guarding them off the road. 
Second, the night is when more danger presents itself. Not only do all of the above risks become harder to see and anticipate, but the other issues are more prevalent at night. Whether it's someone who had too much fun at a party or a group of people up to no good, the chances of them being active at night are higher.
So do yourself a favor and get to your destination before dark. Leave room for traffic and other slowdowns. Take the roads a little slower, especially if you're unfamiliar with them. 
Pro tip: A good way to navigate challenging, unknown roads is to find a semi-truck that seems to know what they're doing and follow along at a safe distance. They can help you manage your speed properly, avoid potholes, and be safely on your way.
We have another post on 8 Tips for Visiting Baja Mexico that you might find useful.
How Safe Is Baja California Mexico?
Now that we've gone over a few ways that you can improve your Baja California safety, let's jump into the reality of the situation. There are some very real issues with many parts of Mexico, Baja California and Baja California Sur included.
But there's another side to this coin. Many of the often-talked-about dangers are not such a major concern for tourists. This doesn't remove all risks, but it's important to distinguish what's a major concern and what's less likely to be your problem.
So let's break down this important topic and figure out if Baja is safe enough for you to visit.
Baja California Travel Advisory
I'll first defer to the government authorities to help give you an idea of the safety in Baja. And what better place to turn to than the two major countries just north of Mexico: the United States and Canada.
I always recommend reviewing the US Department of State's Travel Advisories when visiting any foreign country. This can give you an excellent baseline and insight into nearly any country's safety situation.
The US has four different levels of risk. The entire country of Mexico is at a minimum of Level 2, which means Exercise Increased Caution.
Baja California Sur, the southern state of the two in the Baja Peninsula, is at Level 2, the lowest level for Mexico. There are no specific areas to avoid entirely nor restrictions on US government employee travel. Crime is reported as high, but it is not one of the hot spots in the country.
This means that the Cabo travel warnings are on Level 2. Cabo San Lucas and San Jose Del Cabo (the two cities that makeup Los Cabos at the southern end of Baja California Sur) are on the lowest level advisory for Mexico. 
Most people consider these quite safe to travel to, especially since many people often visit large resorts and stick to tourist activities. You're not presented with a lot of danger in these situations.
Baja California (the northern state of the two that make up the Baja Peninsula) is on a more heightened Level 3, meaning Reconsider Travel. I recommend you carefully read over this specific travel advisory for Mexico yourself.
This is a serious warning. Unfortunately, the crime in Baja California is real.
But there is some good news for most travelers. The crime is mostly targeted toward specific activities and groups that you (hopefully) are not part of. Even in the tourist areas of Tijuana, there are no restrictions on US government employee travel.
You can also view the Government of Canada's Mexico travel advice. It likewise has a general warning for all of Mexico to Exercise a high degree of caution.
Canada has some regional warnings, but nothing about Baja California or Baja California Sur. In many ways, the Canadian warning is more positive about the safety in Baja Mexico.
What do these Mexico travel advisories mean for you? That's a personal decision that only you can make. 
Violent Crime vs. Property Crime
The US travel advisory can be terrifying to read. And to be frank, the situation for some parts of Mexico and some Mexicans is tragic. I'm not going to minimize that there is real crime, along with violent acts associated with it. It's heart-breaking.
As I mentioned above, the travelers in Mexico are usually part of a much more fortunate crowd than some other people. If you aren't involved in a criminal organization or living in the main hot-spot areas, your chances of being targeted are significantly lower.
The unfortunate reality of poverty in Mexico does present other risks.
Not having money can cause some people to turn to crime to get by. So crimes of opportunity, such as theft, do happen. This is likely the biggest risk you'll face. So let's go over a few words of caution, including:
Try not to be flashy about your wealth or your foreign status
Do not leave anything visible in an unattended vehicle
Maintain your senses and avoid putting yourself in unnecessarily dangerous situations
There's nothing wrong with having nice things. And many Mexicans have very nice things, from fancy German sports cars to high-end fashion purses and shoes.
But wearing flashy jewelry or a designer purse while walking around town is probably not a great idea. Neither is flashing a wad of cash on the street to pay for a few tacos. Take some steps so you don't look like a walking ATM. 
It also helps to fit the local customs.
Some foreigners don't realize that Mexico is a very conservative and religious country. Most people, men, and women, dress quite formally and conservatively. What is appropriate in the beach communities of San Diego may cause you to stick out like a sore thumb when in the small beach towns of Baja.
Do what you can to fit in and you'll decrease your chance of problems.
Also, never leave anything in a vehicle. When you get to your hotel, take out all of your bags, throw away the trash, and make the car look like it has nothing but seats inside. Theft of the vehicle itself can happen, but it's much more likely that someone will just smash and grab (break a window and grab a visible suitcase or purse).
Finally, for many visitors to Mexico, the cerveza, tequila, and margaritas (or Palomas if you want to be more like a local) can start to flow like water. But this can also make you make poor decisions and get yourself into a little more trouble. It can also be a sign to other people that your defenses may be down.
Avoid drinking too much. If you want to go crazy, have a plan to avoid walking around alone and stick to areas you know. There are great bars and breweries, even vineyards, in Baja. You can enjoy them without putting yourself in an overly risky situation.
Deal With Money in Mexico
There are a few tips that can help you minimize what you carry around. Even though some people still do it, getting a huge stack of pesos before you come to Mexico is asking for disaster.
To make your visit to Baja safe, keep the cash you carry to a minimum. You can do this by following two steps:
Try to use a good travel credit card when possible
Bring a debit card to use at Mexico's ATMs
Many parts of Baja do rely on cash. The small vendors and campgrounds are unlikely to take credit cards. However major restaurants, grocery stores, and hotels accept credit cards.
Get a good travel credit card that doesn't charge international usage fees. And always have it charged in pesos (decline conversions). One of the best is the Chase Sapphire Reserve (for regular travelers that want airport lounge access) or Preferred (lower fee but no lounge access and slightly lower rewards program).
Keep enough cash on hand to pay for your expenses and have an emergency stash to get a cab, tow truck, hotel, meal, or whatever comes up.
Then when you need more cash, stop by an ATM to get it. Use ATMs in secure locations, such as at a bank. These have a lower chance of having a skimming machine on top. I recommend the same advice in the United States and European countries.
Many US banks and credit unions will give you an excellent exchange rate and not charge you fees to use a foreign ATM. The best ones, such as Charles Schwab checking accounts, will even reimburse fees that any third-party ATM charges you.
When you use an ATM in Mexico, it might ask you if you want to accept a conversion rate. DECLINE this conversion as your bank will likely convert it for you at a favorable rate.
For more information, head over to our entire post on How to Use Money in Mexico.
Other Baja California Safety Tips
We've gone over a lot of information. Now let's cap things off with a few other tips that you should keep in mind. These tips will serve you well in many parts of Mexico and the world.
When you're visiting a foreign country, it's a good idea to keep that in mind during your visit. You might not know many customs or region-specific information.
Think about all you know of your hometown. You likely know one area of town you'd rather not venture into. You can probably tell from the morning weather what you need to be comfortable that day. If you live in the mountains or near an ocean, you probably have a wealth of knowledge about how to explore those areas safely.
But coming to Baja might throw you into a new world. One that you're very unfamiliar with.
Even Pacific-Ocean-loving surfers can be thrown off by the aquatic life and its risks on the Sea of Cortez. Experienced Rocky Mountain hikers and backpackers can be a little lost in the desert landscapes or even in the pine forests of high-elevation Baja.
So just keep this in mind when you travel. Use a little more caution. Be a little willing to stop and listen to advice or use a guide when you otherwise might not.
Don't overdo it on the booze, especially when you're in public. Don't break laws, drive too fast, or take other unnecessary risks that could put you in a terrible situation. 
Enjoy your visit. And take the steps you need to be smart about visiting with your head on your shoulders.
For more advice about visiting Mexico, head over to our list of 60 Best Mexico Travel Tips.
Baja California Safety: Wrap Up
I hope that I've helped you see what Baja California safety is all about. First and foremost, I strongly encourage anyone driving or exploring remote areas to get the few things that can save your life. The Garmin inReach Mini is an incredible tool that's worth every penny. But even a simple Baja Map or MyMedic FAK can save your life.
And don't forget to get a travel insurance policy from TravelInsurance.com to get emergency medical coverage as well as crucial trip protection. If you're driving in, don't forget your Mexican car insurance.
Want to read more about our tips on visiting Baja Mexico? Head over to our post on Baja California Camping or read about Baja Insurance.